Atlanta will soon play host to one of the biggest sporting events in the world on February 3, 2019. With more than 60 years of experience in providing VIP services, Hill Aircraft at FTY is the preferred destination for your executive aircraft arriving for the game. The following information has been prepared in order to provide the very best experience possible as you begin making your travel arrangements.
CONVENIENT PROXIMITY
Hill Aircraft is only 15-minutes away, offering you the most convenient proximity to Mercedes Benz Stadium. Being the closest executive airport in Atlanta to the Super Bowl means you will be on the ground and enjoying the festivities at the stadium in no time at all. Proximity has its perks!
RESERVATIONS
Beginning Wednesday, January 30 through Tuesday, February 5, 2019, all arriving and departing aircraft operations will be required to have a reservation slot time with Hill Aircraft through the Super Bowl 53 Prior Permission Required (PPR) system. We recommend making this reservation early by calling a member of our Customer Service team at 404-691-3330.
A non-refundable, non-transferable reservation fee will be charged at the time your reservation request is made in order to hold the arrival and departure time slot for your flight. Time slot changes can be made in advance at no additional charge; however, we cannot guarantee availability of other requested times. Time slot reservations will be made on a first-come, first-serve basis. Pricing for your reservation slot is as follows:
AIRCRAFT CLASSIFICATION

WEIGHT CLASS

RESERVATION FEE

Single & Twin Engine Piston

All

*$1,700

Single Engine Turbo Prop

All

$1,700

Twin Engine Turbo Prop

All

$1,700

Jet-Type Ultra Light

Less than 9,000 lbs.

$1,700

Jet Type I

9,000 – 14,000 lbs.

$1,700

Jet Type II

14,001 – 22,000 lbs.

$1,700

Jet Type III

22,001 – 55,000 lbs.

$1,700

Jet Type IV

55,001 – Up (non airline)

$1,700

Jet Type V

BBJ, E-190, Airline Type, etc.

$3,400

*SPECIAL – $750 for first 10 PISTON reservation slots. $1,700 for all others thereafter.

Aircraft that arrive without a reservation will be charged the minimum Reservation Fee for handling in addition to their other Service Fees.
FBO CONTACT INFORMATION
PHONE

FREQUENCY

WEBSITE

ADDRESS

Hill Aircraft

404-691-3330 | 800-827-8305

129.575

3948 Aviation Circle

Atlanta, GA 30336
HOURS OF OPERATION
Hill Aircraft will offer extended hours of operation around the day of the Super Bowl to accommodate higher levels of anticipated traffic. Our regular business hours are 6:00 am – 11:00 pm daily. Where indicated, after hours service is available by calling our Customer Service team to make arrangements in advance at 404-691-3330. The cost for after hours service is $150 for a two hour period per aircraft that covers one Line Service Technician.
| | | |
| --- | --- | --- |
| Date | Hours of Operation | |
| Wednesday, January 30 | 0600 – 2300 | After Hours 2300 – 0600 |
| Thursday, January 31 | 0600 – 2300 | After Hours 2300 – 0600 |
| Friday, February 1 | 0600 – 2300 | After Hours 2300 – 0600 |
| Saturday, February 2 | 0600 – 2300 | After Hours 2300 – 0600 |
| Sunday, February 3 | 0600 open – 24 hrs | 24 Hours. No after hour cost. |
| Monday, February 4 | 24 hrs – 2300 close | After Hours 2300 – 0600 |
| Tuesday, February 5 | 0600 – 2300 | After Hours 2300 – 0600 |
TRANSPORTATION & HOTEL ACCOMODATIONS
Hill Aircraft and Fulton County Airport (FTY) is located a short 10-miles from Mercedes Benz Stadium, the venue for Super Bowl 53. Being the closest proximity to all other executive airports in the Atlanta area, there are a number of convenient transportation options we accommodate, including Hertz or Enterprise rental (on-site), chauffer service, coach vans, UBER, LYFT, and taxi. Due to increased demand that week, we recommend transportation reservations be made at least 2-weeks in advance if booking through Hill Aircraft.
Hotel rooms in the Atlanta area are expected to reach maximum occupancy, especially in the immediate downtown and surrounding areas. We recommend making your reservations at the earliest opportunity possible. Hill Aircraft will not be able to guarantee hotel room availability depending on the timeframe of your reservation request and the proximity to downtown Atlanta. Confirmation will be provided by our team once hotel accommodations are secured.
SPECIAL AIR TRAFFIC PROCEDURES
Due to the increased amount of air traffic coming to Atlanta, the FAA has instituted special air traffic management procedures to "minimize air traffic delays and enhance safety" for all surrounding airports. Information specific to your trip into KFTY can be found below.
For real-time updates to this information, please check NOTAMS or https://superbowl.faa.gov/.
2019 SUPERBOWL LIII
January 30 – February 5, 2019
SPECIAL AIR TRAFFIC PROCEDURES
Fulton County Airport – Brown Field (KFTY) | Atlanta, GA
TRAFFIC MANAGEMENT INITIATIVES
Expect Traffic Management initiatives including but not limited to, reroute, miles-in-trail, altitude restriction, ground stop, and ground delay programs.
When a Ground Delay Program (GDP) is required, aircraft must depart within 5 minutes of their assigned Expect Departure Clearance Time (EDCT). If unable, pilots must advise ATC and request a new EDCT assignment.
Traffic management initiatives are designed to provide equitable access to airports and airspace. To maintain program integrity and minimize delays, airborne changes of destination to Atlanta Area airports may not be accepted, except in emergency situations.
FLIGHT PLANS/IFR PICK UP
File flight plans at least 6 hours, but not more than 22 hours, prior to proposed time of departure. Early flight plan submission may minimize your assigned delay during Traffic Management initiatives.
Duplicate flight plans (same call sign/multiple times) are subject to removal from the system and may result in increased delay for your flight.
VFR aircraft requesting airborne IFR clearance/activation may encounter significant reroutes and/or delays. IFR flight plan pick up/activation and airborne changes of destination to Atlanta Area airports will not be accepted within 100NM of ATL, except in an emergency.
TEMPORARY FLIGHT RESTRICTION
A Temporary Flight Restriction (TFR) will be in effect for this event on Sunday, February 3 from 1630 – 2330. Click FDC NOTAM for details.
General Information and Frequently Asked Questions
What are the gateway locations?
Outbound
FTY (Fulton County Airport/Brown Field) – FBO: Hill Aircraft / Signature Flight Support
PDK (DeKalb Peachtree Airport) – FBO: Signature Flight Support / Epps Aviation / Atlantic Aviation
ATL (Hartsfield-Jackson Atlanta International Airport) – FBO: Signature Flight Support
What are the screening hours?
Screening is only available: February 3, 1630-2230
The last reservations will be taken at 2200 to allow time for processing the aircraft and passengers. Reservations will begin at 0001, January 29, 2019.
Between the 10NMR and the 30NMR general aviation aircraft are allowed to land and depart as long as they Squawk, Talk and File
Squawk – an Air Traffic Control (ATC) assigned discrete beacon code prior to and during flight
Talk – aircraft must remain in two-way communications with ATC
File – aircraft must be on an active IFR or VFR filed flight plan
What is the reservation process for gateway screening?
The pilot/POC must contact the ATL Coordination Center and provide the following information. Reservations will begin at 0001, January 29, 2019.
Pilot/POC Name (First, Last)
Pilot/POC Phone #
Aircraft Tail #
Call sign
Aircraft Type
Estimated Departure Time
Gateway Airport/Location (select from drop down list)
Destination Airport Code (three letter identifier)
Will there be animals onboard?
Estimated number of PAX/Crew
Will there be females on the flight?
If I'm departing FTY/PDK/ATL during the time the TFR is in effect, do I need to be screened?
Can I have or am I required to have an Armed Security Officer or Law Enforcement Officer onboard?
No; This is a different operation from the DASSP
Who do I contact if I need to make a change to my flight notification information?
Changes to previously submitted information must be relayed to ATLCC. Please be sure to reference your confirmation number.
Does the reservation process guarantee that I will be screened at a specific time?
While every attempt will be made to provide the screening at the time you indicated, screening at FBO locations will be handled on a first come first served basis.
What's the size of the TFR?
Approximately 30NM outer ring with a more restrictive 10 NM inner ring. We strongly recommend pilots check the NOTAMs. They can be found on the web at: http://tfr.faa.gov/tfr2/list.html.
If I operate under a TSA approved security program, do I need to do additional screening at a gateway before entering or departing the TFR?
The only TSA security programs authorized in the TFR without utilizing the gateway process are the AOSSP, FACAOSSP, TFSSP All Cargo, MSP and ACISP. PRIVATE CHARTER, TFSSP PASSENGER, and DASSP program holders ARE NOT AUTHORIZED in the TFR. They must go through the gateway process to depart while the TFR is in effect.
What are the prohibited items?
Explosives
*Firearms and ammunition
Incendiaries, excluding lighters and matches
Hazardous materials
*All Firearms discovered during the screening/aircraft search process will be reported to the ASOC at (678)569-3902
STUDENT TRAINING/PRACTICE APPROACHES
Practice approaches to airports within 40 NM of ATL will be extremely limited or unavailable due to increased aircraft activity.
Student training flights and flight schools are highly encouraged to operate at other airports between January 30, 2019 and February 4, 2019. Training flights for student solo cross country flights, touch-and-go landings, low approaches and practice instrument approaches are discouraged.
AIRPORT PARKING/FBO SERVICES RESERVATIONS
A reservation program to facilitate ground services at participating Atlanta Metropolitan airports will be in effect Wednesday, January 30 through Tuesday, February 5. Reservations are administered by local FBO's. Contact the FBO at your destination to obtain reservations and additional information.
All pilots are STRONGLY encouraged to contact one of the FBOs for parking availability prior to departing for the Atlanta Area. If parking areas reach capacity, airport management may ask aircraft without prior parking arrangements to depart.
AIRPORT TRAFFIC CONTROL TOWER (ATCT) HOURS OF OPERATION
FTY is 24 Hours a day.
VFR ARRIVALS
VFR arrivals may expect lengthy delays during peak traffic periods. VFR advisory service within the Atlanta TRACON/Atlanta Center will be on a workload-permitting basis.
POTENTIAL HOLDING
Aircraft may be required to hold inbound due to weather or other constraints.
IFR ARRIVAL PROCEDURES
All IFR ARRIVALS should be prepared to enter the VFR traffic pattern. IFR arrivals should be familiar with the VFR arrival procedure. At airports without operational ATCT, please be PROMPT with your IFR cancellations.
Jet and turboprop aircraft
file via the following routes. Expect potential reroute based on demand to allow an orderly transition to the controlled airports.
PREFERRED IFR ARRIVAL ROUTES
Arriving at FTY: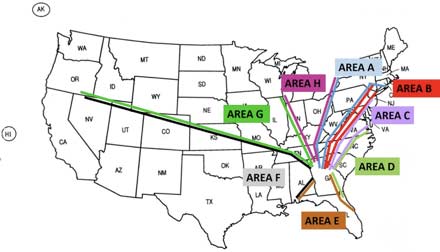 DEPARTING

ROUTE

Area A

GONZZ Q29 KLYNE FLM WUDYA BUKHD1

Area B –
TEB/HPN/CDW/EWR/JFK/LGA
PHL Area


LANNA J48 MOL PSK SCNRY DEHAN1
STOEN REEFI EMI CSN MOL PSK SCNRY DEHAN1

Area C

LYH COLZI IPTAY AHN WOMAC

Area D

HUBBS J193 HCM ISO J121 BARTL KAATT Q172 YUTEE KISTN WRGNZ1

Area E

DAWWN KEEPS BOKRT2

Area F

MVC KEEPS BOKRT2 or
MEI ADTOP KEEPS BOKRT2

Area G

YAMSS SWTEE1 or
BNA RIZZZ BUKHD1

Area H

KLYNE FLM WUDYA BUKHD1
FTY AIRPORT INFORMATION
FREQUENCIES

Tower

118.45

Ground Control

121.7

Clearance Delivery

125.15

ASOS/ATIS

120.175

ATL ARR/DEP

121.0

UNICOM

122.95
All departing aircraft should contact Clearance Delivery on 125.15 prior to contacting Ground Control (121.7) for taxi. Advise if IFR or VFR.
Operators should be prepared for delays due to maximum aircraft capacity. Aircraft towing and parking on closed runway/taxiways should be expected.
The eastern portion of the airport and areas over downtown Atlanta may be highly saturated with helicopter traffic.
Pedestrians are prohibited on active runways, taxiways, etc., unless specifically authorized by Air Traffic Control (ATC). Bicycles and motorcycles are prohibited on movement areas.
AIRSHIP AND MILITARY AIRCRAFT OPERATIONS
Due to limited operational capacity, airship operations are not permitted at FTY during this event.
Military Aircraft must have Prior Permission Required (PPR) authorization. Call FTY Airport Administration at 404-613-4203 or 4205 for Military PPR.
FTY Airport Director
Fulton County Airport
3952 Aviation Circle
Suite 200
Atlanta, GA 30336
(404) 613-4203/4205
NO-RADIO (NORDO AIRCRAFT)
Aircraft without an operable two-way radio will not be authorized to operate at Fulton County Brown Field during the event.
RUNWAY CLOSURES
Runway 14/32 may be closed for additional parking and taxiway use. Consult NOTAMs for current closure information.