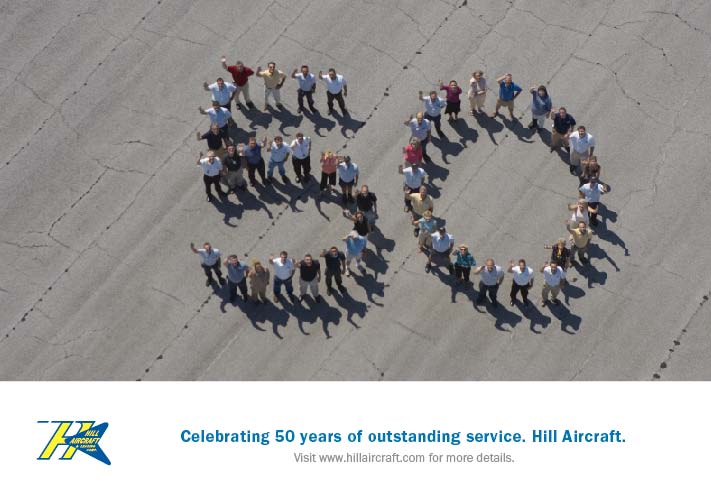 In 2005 we celebrated our 50th anniversary.
---
Hill Aircraft celebrates 50 years in the aviation industry. "We are grateful and proud of the history and heritage that has been entrusted to us and pledge to uphold the standards and service to our employees and customers."
Read about the event below and watch our video.
High Flying Anniversary Event Combined With Major Renovations Mark Hill Aircraft's 50th Year
Atlanta, GA 11/04/05 – Hill Aircraft, a premiere provider of corporate aircraft services at Atlanta's Fulton County Brown Field (FTY) founded by Guy Hill, Sr. in 1955, celebrated it's 50th anniversary on October 13, 2005 with over 450 invited guests.   The gala event was held in Hill Aircraft's newly renovated facility to celebrate the man, the company and its history, with a most deserving event.
---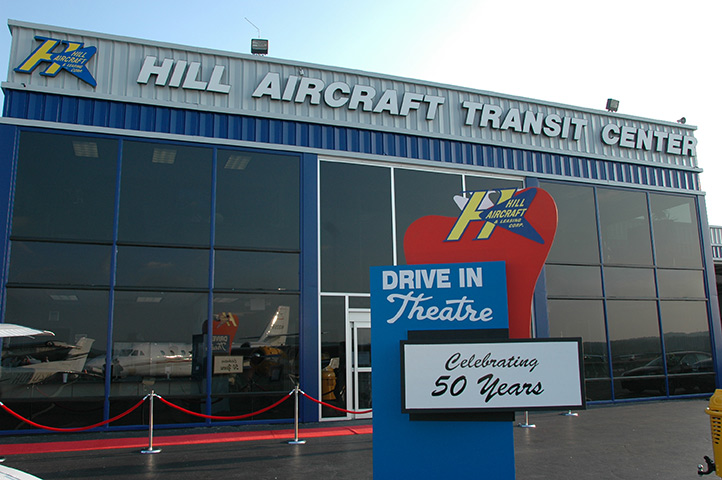 Guests were truly given the red carpet treatment, first by being shuttled from their cars to the front entrance, and then entering the party via red carpet. Once inside, guests could view a pictorial wall of history spanning Hill Aircraft's 50 years, which will be a permanent display.  On the ramp side of the building were a 1952 Cessna 195, a 2005 Cessna 172, 182, Grand Caravan and a 2005 Cessna Sovereign.  Numerous vintage aircraft and vehicles including a 19XX T-6, 1955 Cessna 180, 1955 Ford, 1955 and 1957 Chevy's, were  on display in the newly painted hangar.  Guests enjoyed hors d'oeuvres and were taken back in time with 1950's music playing continuously and a 50's themed décor. A '40 x 20' drive-in movie was set-up in the hangar playing old episodes of Sky King, in addition to a fully functional black and white photo booth.
Current and historic Hill Aircraft images played continuously on the Plasma screens in the lobby. In addition, a roving photographer took photos of the event throughout the night, which were also displayed on lobby TV screens.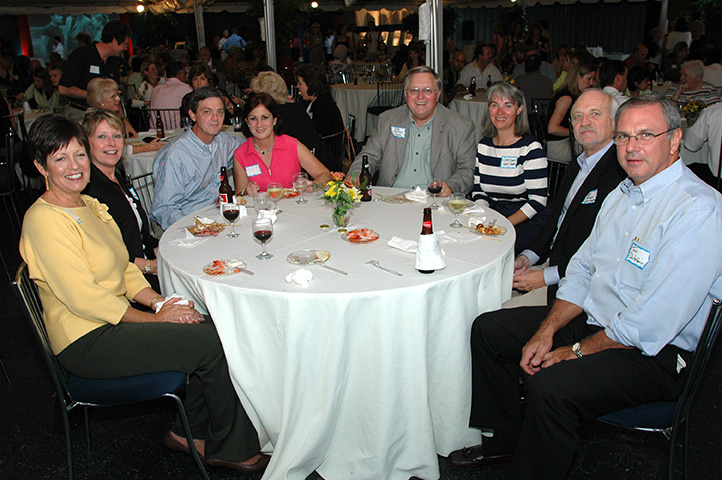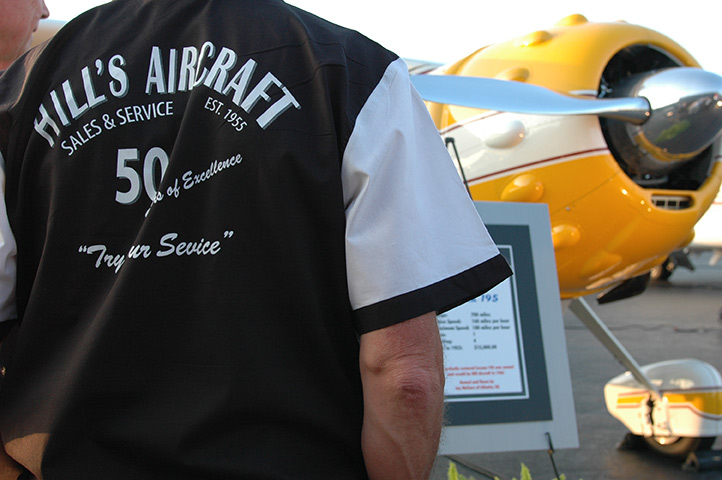 Most memorable and meaningful was a special large screen that played a 20-minute 50th anniversary video. The documentary-style piece included historical interviews and footage with Hill family members, customers and competitors in admiration of Guy Hill, Sr. and how the company has grown into what it is today.
Guests flew in from as far away as Michigan and Kansas for the event.  Honored guests included Roger Whyte, Senior Vice President of Sales and Marketing, Cessna; John Doman, Vice President of Worldwide Propeller Aircraft Sales, Cessna; Keith Sawyer, Manager of Brand and Business Development, Chevron Global Aviation; Marty Hiller and W.T. Hiller, President and Chairman of the Hiller Group and many others.   "It was both an emotional and highly enjoyable experience to have so many people that you value as friends together in one place," said Guy Hill, Jr., President, Hill Aircraft, "I know my Dad would feel the same way."
Major renovations, which began earlier this year to commemorate the anniversary, included a new airside entryway with automatic doors, luxurious, spacious new bathrooms, remodeled flight planning area with a 42" plasma WSI weather and internet computer, new pilots lounge with theatre seating, surround sound and another plasma display.  "The pilot's lounge was designed for the pilots to relax and still be responsive for their passengers.  We have put security displays there so that the pilots can enjoy a movie while watching their aircraft on the ramp and the entrances for their passengers," said Guy Hill, Jr. Other renovations included a newly designed commercial catering kitchen; redesigned lobby area with two additional 42" plasma televisions, lemonade, and coffee/espresso machines. Pilots and customers now have access to two dedicated computers in the business center, Wi-Fi throughout the facility and two dedicated ethernet ports in the kitchen bar area. The new automatic doors for parking lot entrance make baggage transport simpler, and, new landscaping, sidewalk, exterior painting and signage beautify the facade.
50th Anniversary  Event Video