Hill Aircraft always operates with your safety and security as our primary concern.
ARG/US Gold Rating – We maintain a gold rating from the Aviation Research Group/US Fifty-two year safety award presented by the National Business Aviation Association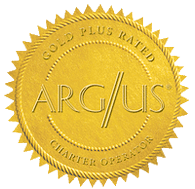 Our company quality assurance programs and business practices exceed all FAA standards. And, our safety management program continually monitors all aspects of our aviation operations and maintenance practices. We're proud of our NBAA safety record: 50+ years of accident-free service.